On-Site PCDoc Conversion Data Recovery File Transfer (Mobile) PCDOC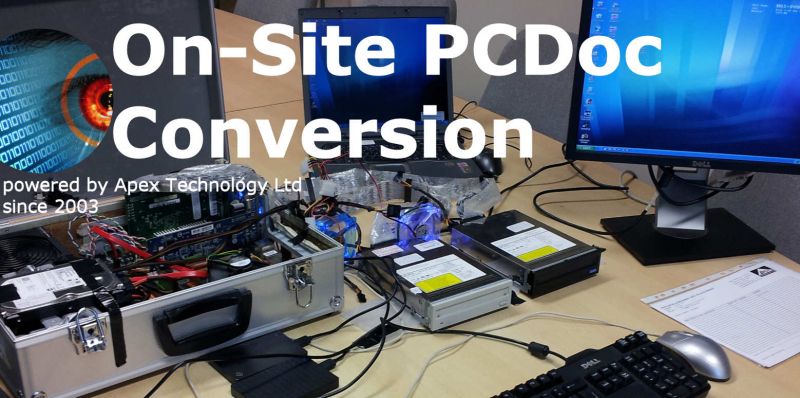 On-Site / Mobile PCDOC Services
- We come to you. Your data does not leave your site.
- We offer on-site (ie. mobile) Softco PCDOC conversion service.
- Our friendly team will recover your files and data.
- Data recovery at your premises, business, or home.
- Work undertaken in UK and Abroad in Ireland and Denmark
Just email or call us now to discuss your situation.



Who uses our On-Site PCDOC Service?
On-Site Softco PCDOC Data Recovery / Disk transfers and File Conversions already for
- Data extraction from HDD cache files - work undertaken in Denmark (Copenhagen).
- File conversion from HDD cache files & MO disks - work undertaken in Ireland (Dublin).
- NHS.
- Ministry of Defence.
- Lloyds Bank.
- HSBC bank.



Why use our On-Site PC-DOC Service?
- Our simple work procedure that cuts down your red-tape.
- We bring all equipment to your site to recover your data.
- Mobile disk conversion work available in UK, and abroad.
- Data Recovery work conducted simply and securely.



Advantages for On-Site Data Recovery
- Simple set up process - just email or call us to discuss.
- Cuts out the "red tape" for your disks to leave site.
- Satisfies many Corporate Governance Requirements.
- Overcomes Data Privacy and Data Security concerns.
- Easily process personnel / patient data, or financial records.
- Helps protect data and intellectual property.
- Reduces the pressure on non-disclosure agreement.
- Reduces Managerial authorisations.

We have the answer - a well tried and tested method for working at your site which has been accepted by MoD and NHS sites. It is simple to set up and ensure that your data remains at your site.
Just email or call us now to discuss your situation.



On-Site / Mobile PCDOC Services
On-Site / Mobile PCDOC Services problems that we recover data from are listed below.
on-site,pcdoc,conversion,pc-doc,softco,import,export,documents,files,data,recovery,.
We come to you! On-Site PC DOC Transfer File Conversion Disk Data Recovery. Mobile PC-Doc Transfer Import Export Migration PCDOC MO disks Database, Cache Files.