PC-DOC Database Conversion Transfer Migration Recovery SoftCo PCDOC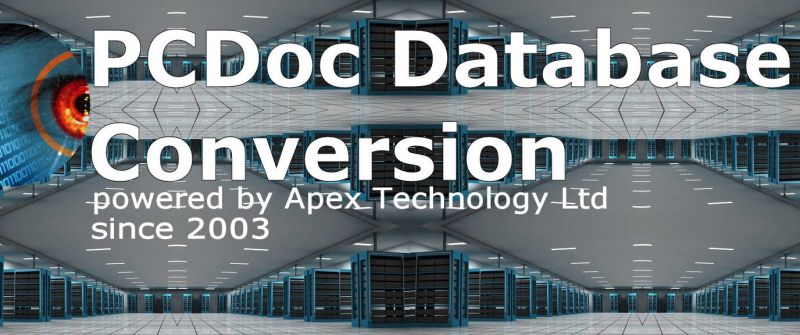 PC Doc database convert to csv, excel or access.
The PC-Doc Document Management system has its own database and it appears to us to be a closed system with no documentation available on its structure. Some say it is a BTrieve structure - but we have not found that to be the case - appears to be encoded / encypted. Therefore we wrote our own program to retrieve the data and allow you to inter-operate that data in your other document systems.. The files extensions are typically .DB, .DBS, .FDD, .KDD, .PRE.

CONVERTING and PARSING
The database can be converted to Microsoft Excel, Access or CSV for exporting / importing to a different database or filing system. We have also parsed the data into various formats and layouts to suit easy importing into many different systems.

DATABASE METADATA for NAMING FILES
The database stores the metadata for the files that are scanned or saved to the PC Doc system. Sometimes the system is set up to use an external database like My Sql or (MS SQL) Microsoft SQL in which case you can probably produce us a text listing so we can name the files in a meaningful manner. When the PC-Doc files are copied , they can be renamed using the metadata from the database.


About PCDOC Document Management System
PC-Doc was developed by Danish company Dansk Informations Teknologi A/S DIT and was a Electronic Document Management System (EDMS) / Electronic Filing System (EFS) / Document Imaging System (DIP). PC-DOC was sold through Softco. The system could either store scanned documents or regular files (like Word, Excel, PDF or any other computer file). It usually had a scanner attached to a PC usually running Windows NT, together with a database for storing file metadata. The software licence was usually controlled by a dongle. The files were stored on Hard Disk Drive Cache files or Magneto Optical Disks (MO) using Panasonic Optical drives , Sony MO disk drives or HP Optical Disc Jukebox.


Typical enquiries we receive...
- Our SoftCo database has as variety of document types in it and any extraction would need to occur onsite
- We have a separate MS SQL database - not the Softco one but need to name exported files using its metadata tag information.
- We are planning to migrate off PCDOC to Laserfiche but PCDOC database is encrypted.
- I need to convert data from archiving system of Softco pcdoc.
- I could not get the DB type for file conversions. It may not be a standard DataBase.
- We intend to import our data into the IBM's CMOD system
- PCDoc Database needs parsing in a particular text format
- I need to connect Softco's PCDoc DB - a very old system. There is no upgrade since 1996.
- SOFTCO PCDOC migration solution required.
- Converting PCDoc database for importing to our new NAS based Document Management System
- Convert PC Doc database to MySQL, SQL Database, csv, excel or Microsoft access.
- PCDoc database encrypted - need software migration tool to export data
- I need to connect Softco's PCDoc. I think its not an open database, its a very old system. Is there any tool or VCL to do this?
- We will migrate off PCDOC (to Laserfiche). We think PCDOC database is btrieve style database but is also encrypted so the data is not readily available.
- SoftCo 7 application data extraction from the PCDOC database.
- Client has only 20 concurrent users and each user can export 10.000 files per day. They have 21 million files to export. Appears impossible to export all data.:(



pcdoc database
pcdoc database problems that we recover data from are listed below.
pcdoc database conversion, pcdoc database transfer, pcdoc database migration, pcdoc database recovery, pcdoc db.
PCDOC Database conversion extract export file index and document metadata for import to new management systems database eg Laserfiche Excel, Access, CSV DocXP.